Vous vous demandez quelle est l'histoire de la fête des mères au Royaume-Uni ? Et surtout vous ne savez pas quoi faire en ce jour spécial ? Nous répondons à toutes vos interrogations.
Un Petit peu d'histoire
Il y a plusieurs siècles le jour connu aujourd'hui sous le nom de fête des mères avait un sens religieux et n'était pas dédié aux mères en particulier. En effet c'était le jour où tous les membres d'une famille retournaient à leur église "natale". Cela donnait l'occasion à une famille de se retrouver en ce jour et les historiens pensent que ce sont ces retrouvailles qui donnèrent naissance à la fête des mères que l'on connait aujourd'hui.
Que faire pour la fête des mères ?
LUI OFFRIR UN AFTERNOON TEA:
Pour un afternoon tea sortant de l'ordinaire allez à Rainham Marshes reserve:
Leur café propose un afternoon tea entre 13h et 16h le 31 Mars, thé de bonne qualité, scones et sandwichs seront au rendez-vous. De plus votre mère aura le droit à une entrée gratuite dans la réserve en ce jour.
Quand: Le 31 Mars entre 13h et 16h
Prix: £ => 6£ par personne
Lien vers leur site internet:
http://ww2.rspb.org.uk/reserves-and-events/events-dates-and-inspiration/events/details.aspx?id=tcm:9-463952
Accès: Station Purtfleet, trains c2c à destination de Grays
Un afternoon tea gratuit pour les mamans au Grosvenor Victoria: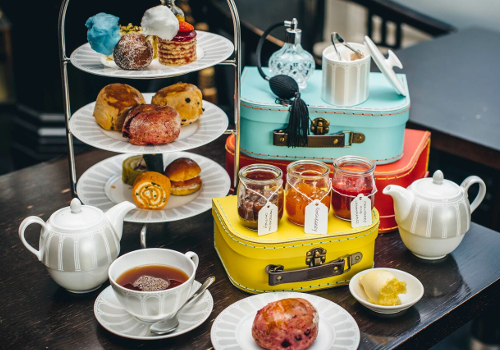 Et oui vous avez bien lu du 29 au 31 Mars votre mère aura le droit à un Afternoon tea au champagne gratuitement !!! de plus votre maman repartira avec un pochon de macarons offerts.
Quand: Du 29 au 31 Mars de 12h à 17h
Prix: ££ => 36,5 £ par personne (pour les accompagnants)
Lien pour réserver:
https://afternoontea.co.uk/uk/london/victoria-westminster/the-grosvenor/
Accès: Station Victoria, District and circle lines, Victoria line
IDÉES ORIGINALES DE SORTIES:
Allez prendre un brunch chez Drink Shop Do:
Allez goûter au  brunch de Drink Shop Do composé de bagels,  de bulles et de jeux de sociétés, dans ce café se transformant en bar la nuit. En ce jour spécial votre maman aura le droit à un cocktail gratuit.
Quand: Le 31 mars à partir de 10h30.
Prix: £ => 26£ par personne
Lien vers le site:
http://drinkshopdo.co.uk/whats-on/2019/march/31st-brunch-mothers-day-special
Accès: Station King's Cross, Hammersmith and city lines, Metropolitan, Northen line, Victoria line et Piccadilly line.
Choisissez le brunch que vous voulez au Market Hall Fulham:
Afin de laissez le choix à votre mère du brunch qu'elle souhaite manger Market Hall Fulham est le parfait endroit où aller. Votre mère aura le choix entre une grande variété de brunchs, de plus si vous passez au bar ils offriront à votre mère un Pink Fulham Spritz.
Quand: Le 31 Mars à partir de 10h
Prix: € => Différents selon les restaurants
Lien vers le site:
https://www.timeout.com/london/things-to-do/market-hall-fulham-mothers-day-brunch
Accès: Station Fulham Broadway, District line
Si vous avez des idées de sorties ou de cadeaux que nous n'avons pas eu n'hésitez pas à les mettre en commentaire.